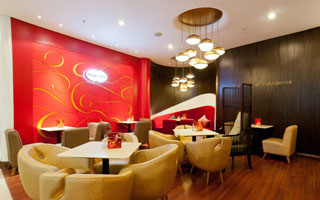 Secret Garden
A comfortable space with garden atmosphere
In China and the Asia Pacific region Cogitoimage has created a brand new ice cream shop image for the premium brand Häagen-Dazs: the Secret Garden, a consumer space with modern, private and soothing ambience.
The overall design has been inspired by the sleek lines of the brand. The curvilinear pattern repeated in the room, used on streamlined sofas, lamps like golden ice cream balls, product images on the walls and details like floor pattern to convey the delicate, soft, light and smooth impression of the product. Cogitoimage also ordered customized reed lights, rose petal-shaped single sofa, and birdcage style chairs to create the comfortable and romantic garden mood.
The new image of Häagen-Dazs has been gradually spread from Singapore to China, Taiwan, Hong Kong, Bangkok, India, Kuala Lumpur and throughout Asia. To keep the same level of quality in different regions, Cogitoimage took strict control and precise execution in material selection and overall details. For the selection of reed lights suppliers, the engineering team specifically travelled south to Guangzhou for numerous suppliers' assessment, and the final product has been determined after several rounds of strict prototype approval process.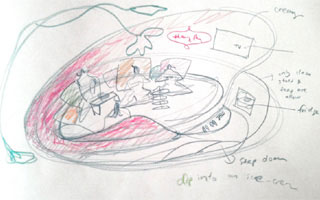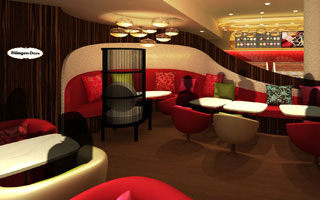 To convey the richness and softness of ice creams to guests, a lot of effort was put into finding the suitable material in color and texture. Almost one hundred pieces of clothes were examined in the rigorous selection process to finally find the one which is closest to indicate the ice cream smoothness. Further challenges of this international project was the application of SI standard for all stores while encountering issues like geographic and space limitations. However, to meet and overcome these challenges, Cogitoimage was rewarded with priceless experiences in return.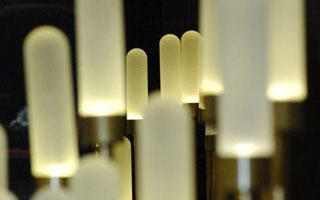 Reed lights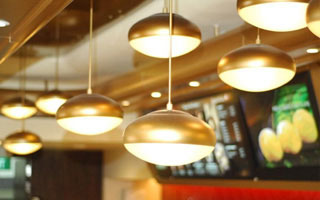 Pendant light fixtures like golden ice cream balls