TID Award, The Taiwan Interior Design Award is an iconic award for interior design and architecture in Taiwan and also the annual event for the space design industry. Thanks to the affirmation of the judges, Cogito won the trophy of "Taichung World Flora Expo, Discovery Pavilion " project, and thanked all the partners who participated in the Discovery Hall to create the moment.
2019 TID AWARD Exhibition Space | Cultural Exhibition Space
Taichung World Flora Expo, Discovery Pavilion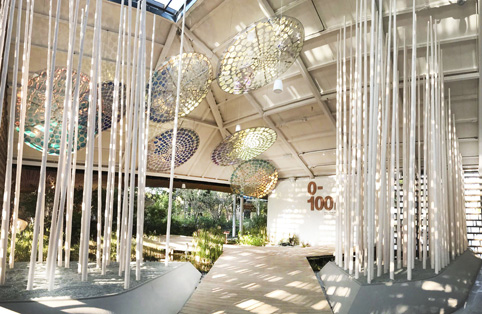 With the theme of "Viewing Half-Earth through Taichung's Ecology", Discovery Pavilion advocates to preserve half of our planet for other species, and reinterpret the ecology of Dajia River. Through the utilization of poems, crafts, art installations, murals, sculptures, and new media, etc., the design team transformed the wide-scale landscape of Taichung Dajia River from low to high altitude into pieces of artwork within the limited space. It is telling the past and present life of native plants and animals of this ecological environment.
From the estuary (0m) to the snow mountain range (3886m), the nine exhibition areas are independent and with different styles, but also constitute a whole. Cogitoimage team collaborated with Taiwan's emerging creators to successfully break through the obstacles of space. With a variety of new interpretations, it allows the audience to have an immersive experience of roaming in nature. And all the designs echo a theme — to show the audiences that more than half of the space on the earth belongs to the ecological environment and so human beings should live in harmony with half of the earth in the ecological circle.