The brand concept should be directly visually perceptible, that was the main design request of the client, also that "Smarter, Greener, Together" is being implemented with the Green Energy products, in the sense of a harmonious, sustainable and respectful coexistence between humanity and nature.
Thus the question arises, what kind of spatial environment could convey the feeling of coexistence with the natural world to visitors?
As a result we have developed a "Delta Sunshine Elementary School", a kind of forest school with villa factors, a place that embraces nature and with in-between spaces that blur the boundary between interior and exterior, creating a comfortable relationship between nature and artifice. In this environment the elements of the company's green technology are perfectly integrated and the idea of clean energy, low consumption is implemented and viability visualized.
Techniques and methods of green design are applied to this booth, achieving an airy and open atmosphere while reducing the consumption of necessary materials and partially replacing materials with recyclable substitutes, after the show, those booth materials shall transported to Delta Taipei and then Beijing exhibition hall, becoming a "mobile primary school" to continue the promotion of the client's green brand concept.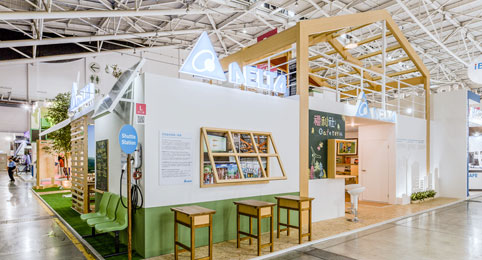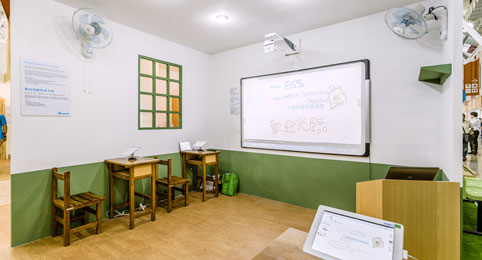 [Classroom Area]
Delta Technologies applied to the Green Classroom. There is no need to emphasize the importance of environmental protection, because the Green technology itself tells it all, as natural as the air.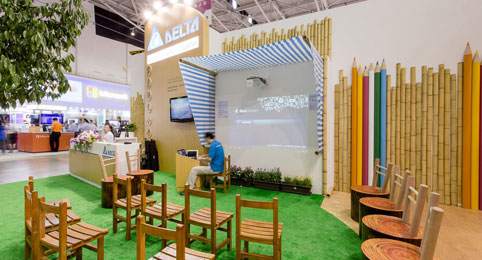 [Outdoor teaching Area]
The class could be held wherever you like. By using the mobile technologies of Delta, any place could be turned into a classroom. Learning in a scenic environment, knowledge awaiting you everywhere.