About Earth Hour
Earth Hour was founded by WWF in 2007 in Australia. It's now the largest environmental campaign in the world. This campaign encourages citizens, governments and businesses to turn off unnecessary lighting and other energy-consuming facilities from 20:30 to 21:30 on the last Saturday of March annually, as an expression to raise climate change awareness.
Earth Hour 2015 in China continues to focus the most urgent and highlighted smog issue. "Switch Off, Blue On" emphasizes that renewable energy enables changes and our aspiration to blue sky.
Cogitoimage Response Earth Hour
Although fossil fuel reduction has been promoted extensively, renewable energy is still irrelevant to many people. In response to Earth Hour, design team integrates solar energy into outdoor interactive installations, connecting technology, design, entertainment and community via artistic approaches. Art is used to bridge the gap between technology and daily life.
In Earth Hour 2015, Power Park shows us that art can convey love, creative can change life, and solar can bring back blue sky.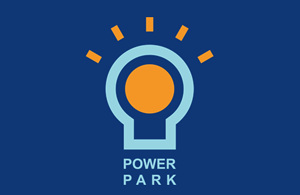 A group of like-minded innovators, including WWF China Manager Dang Wang, Executive Director of Cogito Shanghai Ming Kim, Successful Design co-founder Sissi, and Create Network founder Terence, all contribute to Power Park with respective expertise.
Fundamental design concepts include green, extracted from environmental protection, and sprout, representing rebirth and rejuvenation.
Installation Design
The plate on the top is added with grids to imitate sunflowers and connect with solar energy.
Twelve sets of installations will be included in Power Park. It touches upon our reflections to human activities, climate change and the future of earth. "Leaves" are made by solar panels, conversing solar into power for storage and charging mobile phones. It also offers lighting at night and music as entertainment. Rest areas are stationed under those "trees" for leisure.
With solar installations, people can engage in energy regeneration and creation in Power Park. It's located in an urban area as a park, charging station and power generation facility. Families and friends enhance their bonds here. Solar "trees", in this interactive process, light up cities and our minds, as well as transmit positive energy in our life.
Solar energy has been inaccessible from many people. This artistic solar installation minimizes the distance between human beings and renewable energy. Solar energy, therefore, become physical, accessible and sensible. We also hope awareness will inspire changes in action.