This year's Taipei Cycle Show was the biggest so far, with 1,457 domestic and foreign exhibitors, over 5,100 exhibition booths. Among them are the two renowned companies Cogitoimage strategized the space branding for: GIANT and ShenYang Bicycle (SyB).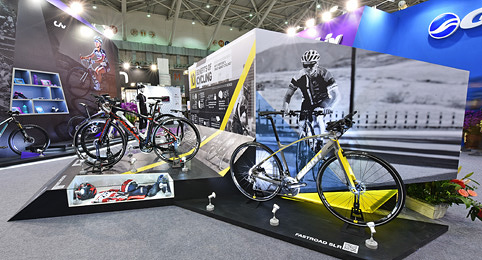 At the GIANT booth, the newest series from 2015 of the dual brands GIANT and Liv were presented under the theme "From YouBike to Your Bike". The spatial arrangement reflected the concentric impression of the enterprise, displaying from the core to the outward products for leisure, sports and professionals. Every rider could find products of their interest quick and easily. As the base color of the space, black has been chosen to underline the stylish framework of the bike and set off the representative colors of both brands, whereas the geometric, abstract forms and sharp speedy lines accentuated the presence of a world-class brand.

The SyB booth in cool grey tone had a strong industrial style, adorned with large metallic materials fitted with wooden elements, it exuded an air of toughness, class and quality. The design of the product displays took variety and openness into account, further raising brand awareness effectively.