TAITRONICS is a spectacular annual event for the electronics industry. To meet the government promotion program for ICT Industry this year, Cogitoimage used a novel combination of storytelling and real-time experience to design the exhibition sections "MIT Inside Future Experience Pavilion" and "Taiwan ICT Pavilion".
With "The Day in 2020"as the theme for the section "MIT Inside Future Experience Pavilion" , a micro movie conjoined with ICT technologies introduced visitors to a futuristic world in various livelihood aspects, from dinning to entertainment, seemingly turning them into the participating protagonists of the movie while demonstrating the astonishing technologies of Taiwan's hidden champions in ICT industry. The inflatable movie theater of 6m height and 12m width was also an eye-catching object in the exhibition hall.
Cogitoimage successfully took up the challenge of accomplishing the project in the limited time of 3 months - from planning, design, movie production to implementations on-site. The resourceful combination of ICT technologies with realistic life scenario embedded with futuristic intelligence effectively presented the strength of Taiwan's productivity to the crowd and international buyers. At the same time, the movie has been uploaded to the borderless world of internet where the message could be viewed indefinetly.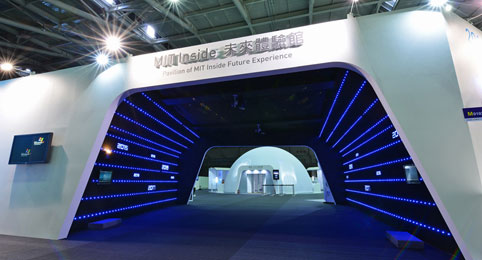 Time travel to the future
The entrance area was equipped with interactive floor projections and light strips to create an enchanting time tunnel. A facial recognition application with interactive system showed visitors how they would look like in seven years. The visitors were guided to experiencing novel technologies in an involving, fun way.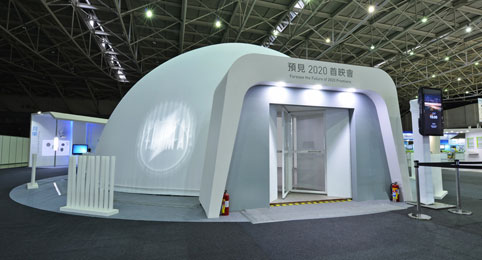 Movie premiere of "The Day in 2020"
After going through the time tunnel, the future opens up with the micro movie presentation. The marvelous inflatable indoor cinema was the first one being set up inside an exhibition hall in Taiwan. With this novel medium's debut, a life of 2020 unfolded in front of the audiences eyes.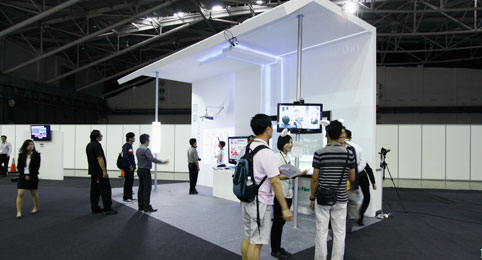 On-site scenarios of "The Day in 2020" for real-time experience
Scenarios of the micro movie were extended to the on-site space, every visitor could be the protagonist of the story, experiencing the life in the future in various aspects: dining, medical, shelter, clothing, transportation, education and entertainment. It's an invitation to explore what Taiwan's ICT technologies could do.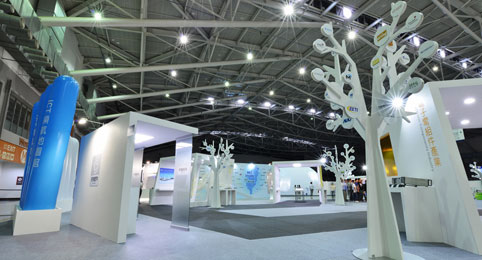 The Boulevard of Taiwan's ICT industries
The eight major ICT industries were presented in a style of shop street, visitors were guided through the street block to discover the hidden champions behind the intelligent technologies for the everyday life.