The artworks exhibition "Reform, Connect – Green Design Project" was one of the home field events of Shanghai Design Week 2014. Outstanding designers, agencies and interdisciplinary creative teams from fields like architecture, interior design, exhibition, retail display, art and fashion were invited to give industrial waste a new life. At the hands of the designers, they became ingenious creations reconnecting to people's public lives by generating interactions and new stories.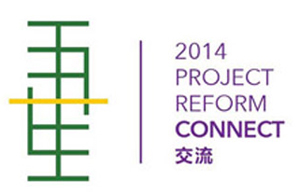 Speaking of puppets, people often associate them with classic cartoon characters from the childhood, rooted deeply in our memories – where artists often dig in as one of the sources for creation.
For this event, Cogitoimage brought a fantastic installation full of childhood charm: Kaka mechanical puppet. The unit was entirely composed of scrap mechanical parts to meet the spirit of "waste not".
The characteristics of manipulating a puppet accentuated the interesting nature of one interacting with oneself: the conversation of the individual with the public mass, dreams versus reality. It was also like a private independent movie, a piece of art for everyone. Concerning the current issues of urban waste management in China, it portrayed the transformation of environmental protection in recycling.
"Revealing or reflecting the paradox or truth in human nature to sometimes preferring solitude and other times again to seeking companionship."- The work had an adorable comical appearance, it looks simple and uncomplicated, but humor and wisdom are packed within it. While eliciting smiles, it also conveyed the sense of distance and warmth in humanity, a life philosophy of its own. The interactive mechanism could be activated by the audience, to enchant them with auditory and visual aesthetic, further stimulating imaginations, fascinations or contemplations.
Design concept: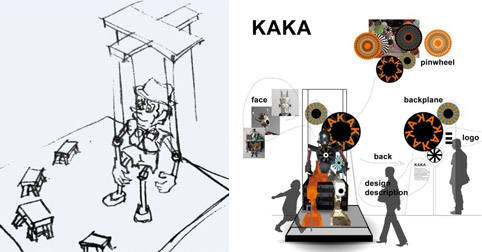 Materials: scraps and wastes of iron, steel plate, iron pipes, drums, cans, chains, devices, machineries, fans,….


Production process: