To celebrate the centennial anniversary of the Taipei Zoo, Cogitoimage's curatorial team, performed in-depth fieldwork, data collection and reconstruction to plan for an exhibition that shows the undying spirit of a hundred years old zoo. Values of conservations, stories of changes and relationships between human and animal are the core curatorial themes. A history of dedication and growth presented to touch visitors' heart.


In the Education Center, different models of the zoo during the Japanese occupation, Yuanshan site and Mucha site times are displayed, showing the development and achievements of the zoo. Untold stories of the legendary Zoo Director Mr. Wang were uncovered and lead visitors into a space of life and true emotions.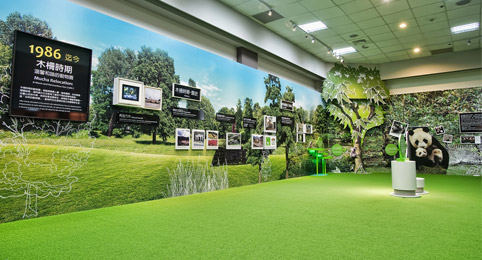 For the outdoor area, interactive experiences with animal models are designed to meet the low interference, harmonious concept of "Ecogeographic Display Method". Accompanied with conservation stories of animals, visitors are provided facts and information in a relaxing and fun way. They were taken to old times, sharing memories such as of Amye, the popular chimpanzee and "Monkey Riding Bicycle Show". By integrating human emotions into the space, it becomes alive and endearing to visitors.