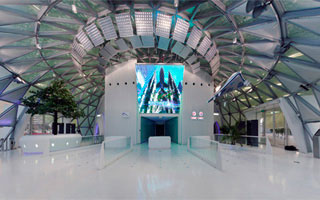 Aviation Pavilion
Capturing the wings of freedom, soaring the unlimited sky
In the beginning of participating in the Expo Pavilion tender, the unrestrained imagination of Cogitoimage's designers first came up with "a work that can take off and fly", and so the idea started with the shapes of wings. After searching through countless reference materials, finally the image of an eagle soaring above the horizon caught their attention. How does such majestic birds able to maintain control in the air by merely flapping it's wings? The key factor: riding with the wind. Therefore, "capturing the wings of freedom" has become the concept for the design. Benefiting from the past experience on Air Expo in Taiwan and also the basic knowledge of aviation, Cogitoimage scored the second place in the first round with "wings", a design similar to turbine engine blades and the project was named "the posture of conquering air".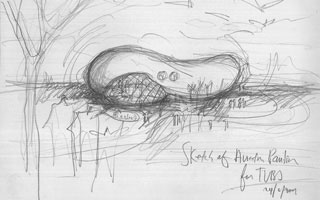 In the final evaluation round, the funder redefined the architectural theme to "cloud". To meet the request, designers spend days and nights for researches, sketches, clay formations, and then rendering 3D graphics to finally give birth to the "Somersault cloud" structure concept, which in the end hit the highest score in the bidding match and became realized in the Expo Aviation Museum.
The next stage of the project was refining the construction by choosing a whitish membrane material to obtain an architectural feature that appears clean, soft, smooth and mellow, implying the lightness of a cloud. The double roof system used here was a unique "Eco-interlayer" to enable environment friendly ventilation. The displays in the pavilion are supported with 4D imaging technology, using various sound, light, electricity, gas and water special effects to immerse visitors into realistic and exceptional flight experiences.
Walking into the pavilion hall should be like walking into a cloud, carrying mankind's dream of "flying", to explore the mysterious vastness of the universe, thus providing infinite possibilities for aviation developments and symbolizing the nonstop changes aviation has brought to cities, therefore the pavilion was also nicknamed "Flight Limitless".